City of Robstown: Beautification Initiatives
The City of Robstown has begun the process of undertaking several initiatives set forth in an effort to continually beautify the City of Robstown. We undertake these initiatives in hopes of re-igniting the pride in Robstown. We want to keep our streets and city looking beautiful for all to enjoy. Here is a breakdown of the current initiatives being undertaken by the City.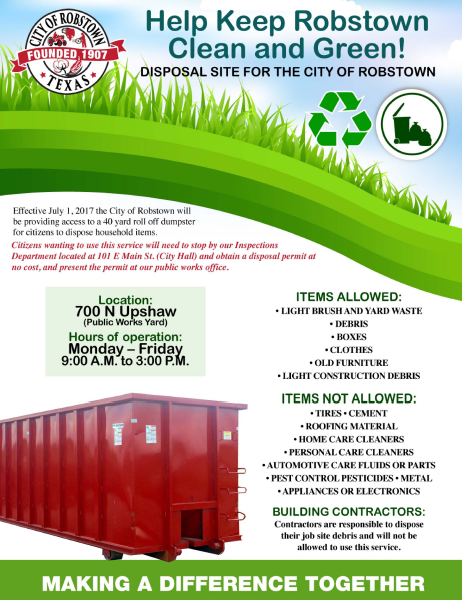 Robstown Roll Off Initiative
Effective July 1,2017 the City of Robstown will
be providing access to a 40 yard roll off dumpster
for citizens to dispose household items.
Citizens wanting to use this service will need to stop by our Inspections
Department located at 101 E Main St. (City Hall) and obtain a disposal permit at no cost~ and present the permit at our public works office.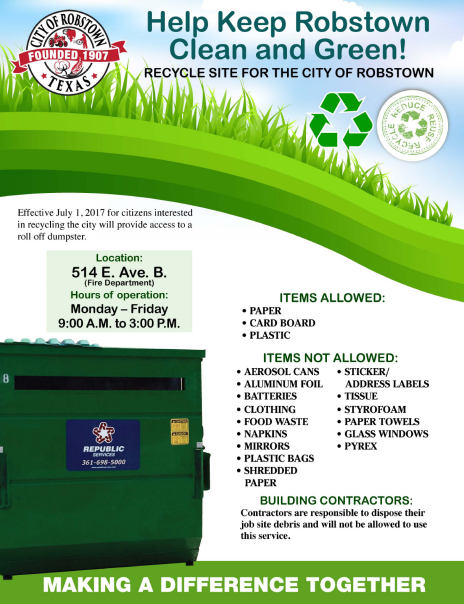 Robstown Recycling Initiative
Effective July 1,2017 for citizens interested
in recycling the city will provide access to a
roll off dumpster.