Cottonfest 2023
Saturday, October 21, 2023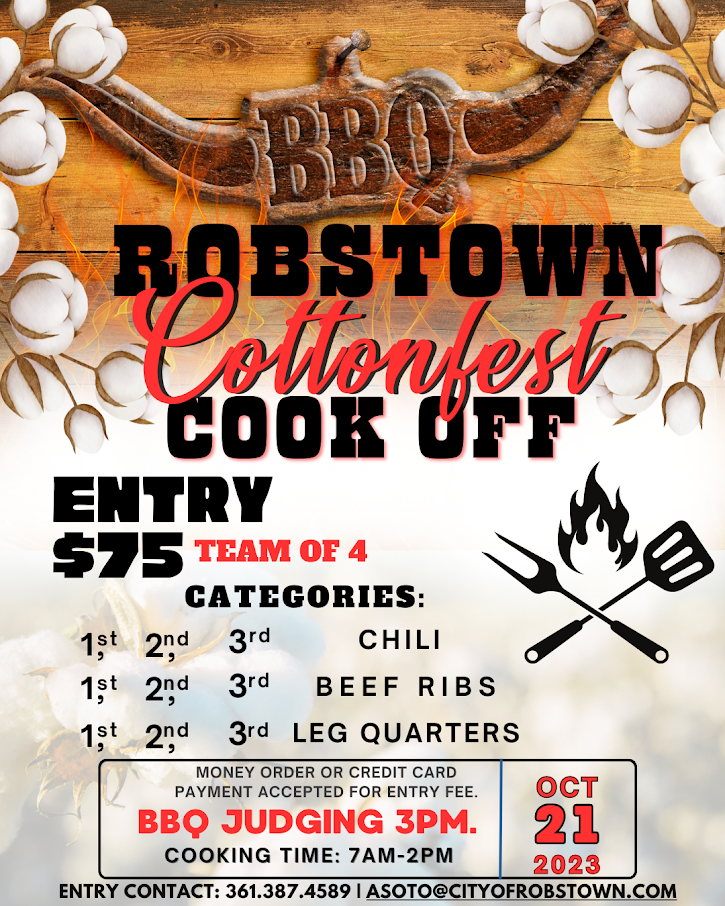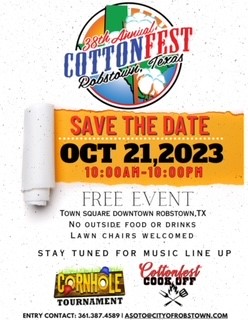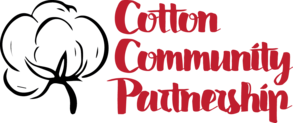 Board of Directors:
Beatriz Charo – President
Mayor Gilbert Gomez – Vice President
Norma Nunez – Treasurer
Laura L. Young – Director
Armando B. Gonzalez, Jr. – Director
Wanda Russell – Director
Amanda Soto – Director
The City of Robstown is committed to serving its community and making an impact for those who work and live here. That commitment led to the creation of the nonprofit corporation, Cotton Community Partnership. The mission of the Cotton Community Partnership is to promote education along with neighborhood and city beautification that advocates civic pride within our community. We aim to provide college and university education scholarships, financial, art & health education, and events to encourage fellowship within our community.
Some of our programs include the annual Cottonfest Festival & BBQ Cook-off, Winter Wonderland, Nueces County Junior Livestock Show participation, EMS Health Fair, First Responders Halloween Festival, and Crime Prevention Rally.
This year Cotton Community Partnership awarded $4,000 in scholarships to graduating high school seniors of Robstown Early College High School. Winter Wonderland was a great success with over 600 gifts being given out to local children! This year the Cotton Community Partnership contributed over $8,000 to local FFA and 4-H Clubs at the Nueces County Junior Livestock Show. We also had our first Eggstravaganza parade!
Our goal is to make an even greater impact in the City of Robstown. We cannot do that without your help. We hope that you will be a proactive supporter through our marketing and partnership opportunities, which include Diamond Partnerships at $10,000, Platinum Partnerships at $7,500, Gold Partnerships at $5,000, Silver Partnerships at $3,000 and Bronze Partnerships at $1,000.
We are excited for this years' events and look forward in sharing our success with you! Thank you for your time and consideration.  I can be reached at 361-933-5212 to discuss and answer any questions you may have.
Thank you,
Beatriz Charo
Board President
Cotton Community Partnership is an established and recognized 501(c)3 non-profit corporation. Tax ID #81-2130582